The African prints are very colorful fabrics that come in different patterns, designs and names. The African prints has been known to the African people since civilization set in and has evolved into various types from different African countries like the production and manufacturing of the "kente" from Ghana. Different fabric manufacturing companies in Africa has indulged in the production of these fabrics and has therefore branded them with names like daviva, akosombo, nichem wax and many more, to mention a few. Which is now in a general class called Ankara?
I was prompted to do this post because I have seen the flexibility of Ankara materials and how they styled
Stan Nze looking dapper in ankara pants
Style pantry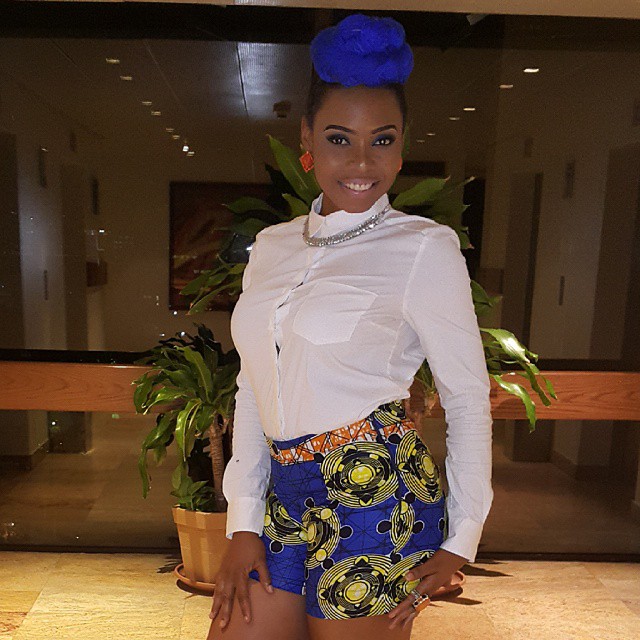 Ankara harem pant
Gwen Stephanie
Ankara fabric is so flexible, you can manipulate it to your taste. The Ankara pants can come in peplum style, jumpsuit, bum shorts and which ever way you style it. you can send a picture of your styled Ankara pants to ujuliti@yahoo.com to get a feature on my blog.
Tips: If you have had that Ankara asoebi in your wardrobe for a long time and you don't want to wear it anymore because you got it for a friend's wedding or event, you can just keep the top and style the pants as desired from the pictures above. That's what I call Recycle and Redefine.
2: the new trend in sewing pants now is to avoid the ropes like our grand fathers and go for the zipper, hooks, elastics and buttons so you can tuck in, or fly out without having any bulging end, you can also ease yourself in comfort without having to struggle with the ropes.